New Kia 2019 Kia Forte for Sale near me Auburn Hills MI for Sale in Southfield near Detroit Michigan
2019 Kia Forte for Sale near me Auburn Hills MI
View Inventory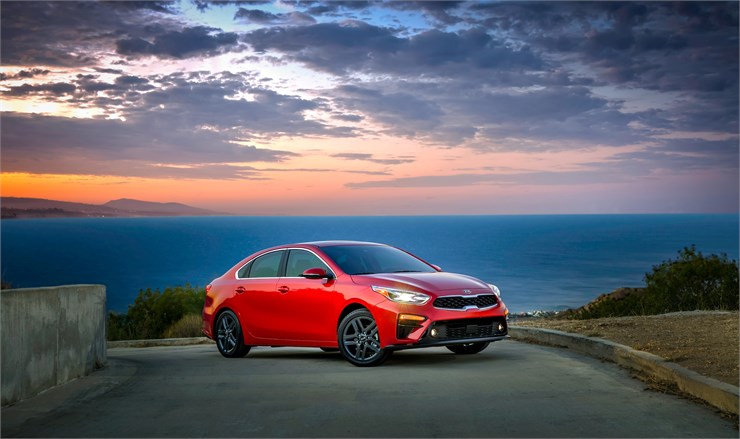 Vehicle Overview
If you are in the market for a sporty, compact car that has plenty of power and is an economical choice, then you should look no further than the vast selection of 2019 Kia Forte near Auburn Hills. Feel like a million bucks when driving this automobile (even though you won't pay nearly that much for this car.) This vehicle is spectacular for a small family or someone who travels a lot and needs the economy that a compact automobile brings. Rated number one in customer satisfaction and design for the 2019 year, let's explore why this may be the perfect car for you.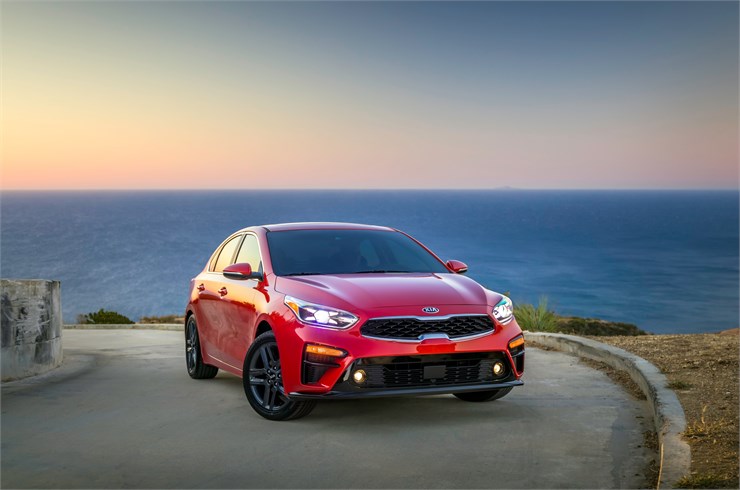 Exterior – 2019 Kia Forte
The 2019 Kia Forte is sleek and sophisticated on the outside. Though they discontinued colors from last year, such as grey, red, and bronze, they added some new ones to the mix. This year's line up has hues of orange, and an updated sparkling gray. There are seven color options available, and we have them all! This is just another way we are serving Auburn Hills shoppers. You can add some upgrades to the car reminiscent of the Stinger, such as mudguards, a bumper applique, wheel locks, and a spoiler. If you are looking for a 2019 Kia Forte near Auburn Hills, then come check out our selection.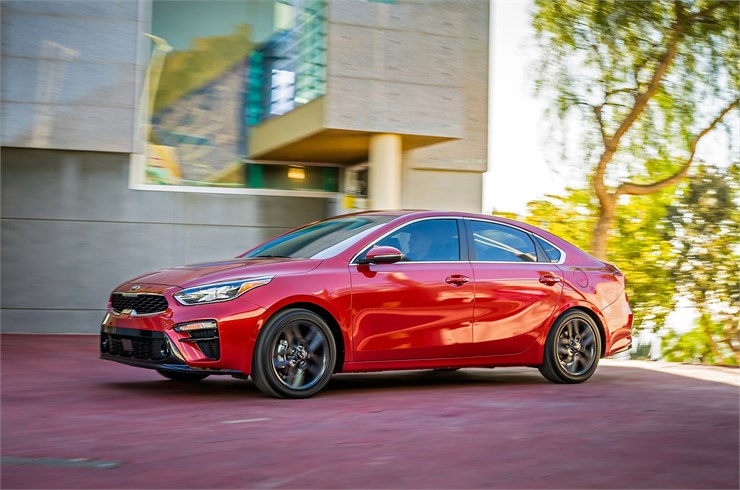 Interior – 2019 Kia Forte in/near Auburn Hills MI
When browsing the for sale section of compact cars, you are concerned about what's on the outside, but what's on the inside is what truly matters. You want a small car to bring a comfortable ride. On the Forte, the cabin is loaded with modern and premium details that rival vehicles in a higher price bracket. There is plenty of leg room in the front seat–42 inches to be exact. For those who are taller, there are over 38 inches of headroom inside the cabin, which is more than ample for those who are around six foot in height. The back seat splits and folds for easy storage, and to extend its hauling potential. The trunk space is 15 inches, which is on the larger size for cars in this class. There are plenty of upgrade options inside and outside the cabin, and we are serving Auburn Hills shoppers and giving them the selections they desire.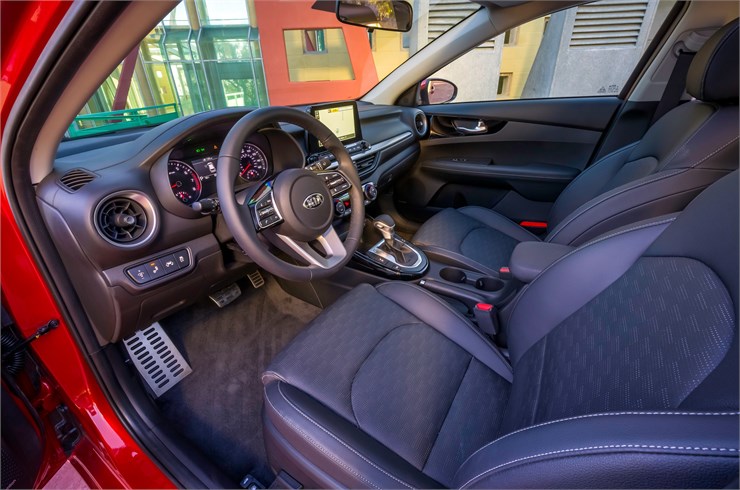 Mechanical – Kia Forte specs in/near Auburn Hills
Browsing the for sale lot is never easy. There is so much to choose from. However, when it comes to the mechanical aspects of the 2019 Kia Forte, you can't go wrong. Inside you will find things like a glow of orange to make the instrument panel easy to see day or night. You will find a trip computer and GPS in upgraded models. You get three months of satellite radio free with your purchase, which plays nicely on the six-speaker system. Some other mechanical features include the placement of all controls on the steering wheel for quick access. No more looking over and taking your eyes off the road to control your instrument panel. You will enjoy the dusk-sensing automatic lights that turn off and on in case you forget. Kia went above and beyond to pack so many features into a compact automobile.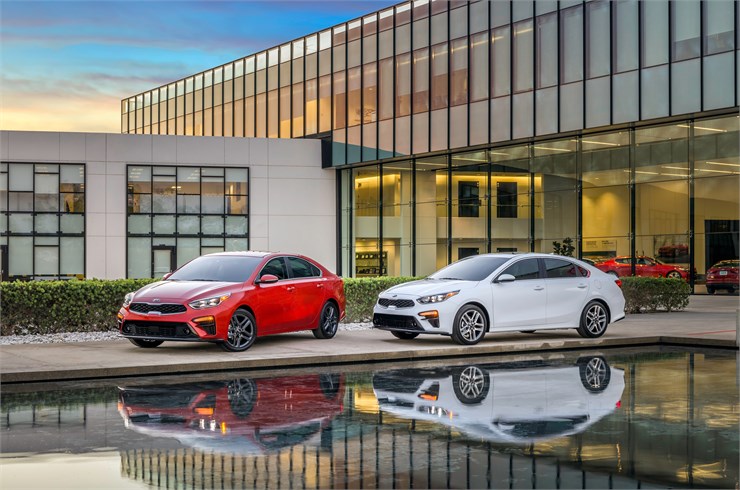 Powertrain – 2019 Kia Forte dealer
Those searching for a 2019 Kia Forte near Auburn Hills will want to know all about the powertrain. After all, it doesn't matter how great a car looks if it doesn't have the speed you need. The engine comes standard with 132 ft-lbs. @ 4500 rpm, and you will be surprised how fast the 2.0 L engine can move. These four cylinders have 147 hp @ 6200 rpm, and it can rival any car at a similar size. Sure, it's not the biggest engine out there, but it's an economical car made to save you money. It's got everything you need to accelerate on today's busy highways.
Safety – 2019 Kia Forte dealer
Safety is a big concern with any new car purchase. Those with families will be glad to know that the KIA Forte comes standard with rear child safety locks. Should you drive on slippery terrain, the traction control will kick in to stabilize the car. The lane departure warning system lets you know if you attempt to pull out in front of someone while changing lanes. It can help to avoid accidents. If you do happen to be involved in an accident, you will be happy to learn that this car has a post-accident safety system that shuts down the gas system to avoid dangerous situations. Both the front and back seats have fixed headrests, and ample airbags throughout. You can feel safe driving to and from work knowing you have these extra protections. We are serving Auburn Hills shoppers, so stop by and take a test drive and learn about all the safety features from one of our knowledgeable sales professionals.
The 2019 Kia Forte is an excellent choice for those who are budget minded but who still want a sharp-looking vehicle. You don't have to skimp on comfort or style just because you want a compact automobile. There are a lot of small cars for sale in our area, but few can rival the features and sleek style of the Forte. Our Auburn Hills dealership wants to help you drive home in one today!