New Kia 2019 Kia Forte Metro Detroit MI for Sale in Southfield near Detroit Michigan
2019 Kia Forte Metro Detroit MI


View Inventory
Vehicle Overview
The KIA Forte has been a staple on American roads since its introduction to the market in 2008. With every iteration, this popular sedan has delivered more power, better fuel economy, and enhanced style. The 2019 model is no different. The new 2019 Forte is completely redesigned with modern drivers in mind. It's equipped with numerous smart features and an enhanced powertrain that can please any driver. If you're looking to explore your 2019 Kia Forte Metro Detroit MI options, stop by Glassman KIA. We're proudly serving Detroit Auburn Hills Dearborn Michigan drivers. We'll be happy to give you a tour around the new lineup and show you all that the Forte has to offer.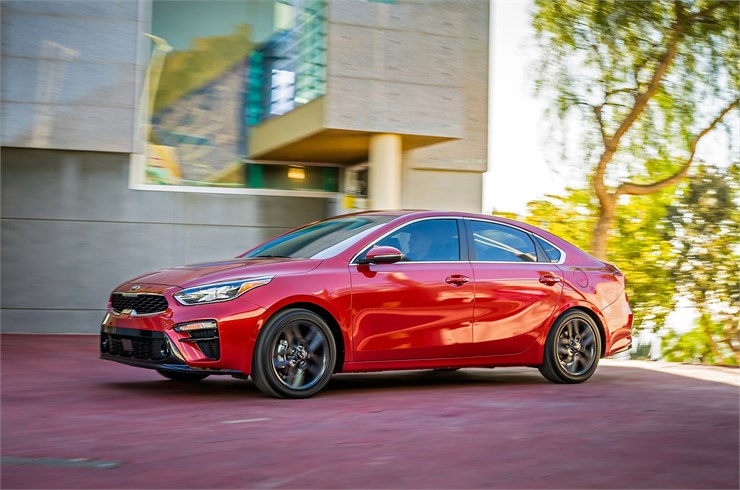 2019 Kia Forte's Exterior
The new 2019 Forte has a clean and sporty look. The body of the sedan has been overhauled to include more chiseled lines throughout. These aggressive slopes add a refined touch while improving overall aerodynamics on the road. These lines are complemented by the unique front design. KIA's signature grille is positioned front and center. It's flanked on both sides by LED headlights and LED daytime running lights. Both the headlights and taillights are elongated to produce a distinct appearance and enhance visibility. LED accent lights are also included on the rear. The Forte is available with an optional rear spoiler as well as solar control glass to keep the interior cool. When it comes to trunk space, this new model is slightly bigger than previous options. It has approximately 15.1 cubic feet of space to store all of the essentials.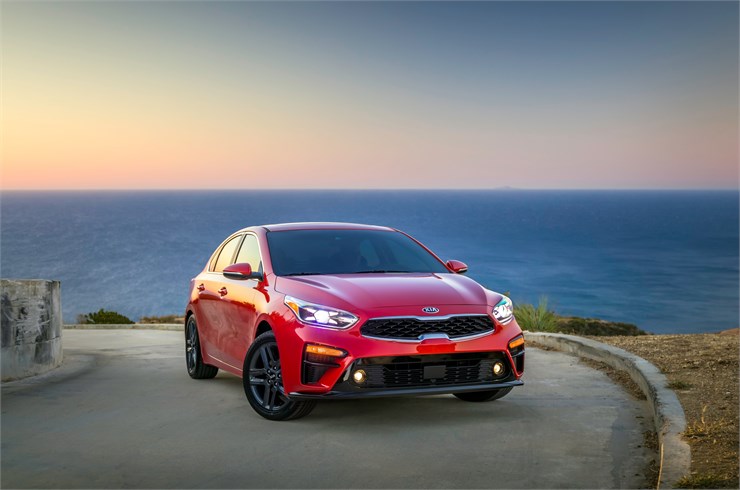 2019 Kia Forte's Interior
The 2019 KIA Forte has a sleek interior that's been redesigned for simplicity. The horizontal dash is clean and minimalistic. Sweeping lines and attractive metal accents give it a polished look. An 8-inch touch screen is built right into the center dash. It rises above the slopes of the dash for enhanced visibility and improved controls. The UVO infotainment is compatible with Apple CarPlay and Android Auto so that you can enjoy applications and media on your mobile device. Smart-Key technology with push-button start is also included. Optional features include a wireless charging pad, dual-zone climate control, and a powered sunroof. Sofino seats are included to keep you and your passengers comfortable. The rear passenger's seats utilize a 60/40 split system for versatile cargo options. In terms of legroom, KIA has added a few inches of extra space by lengthening the overall body of the sedan. LED lighting throughout the cabin can also be added to create ambiance and improve visibility at night.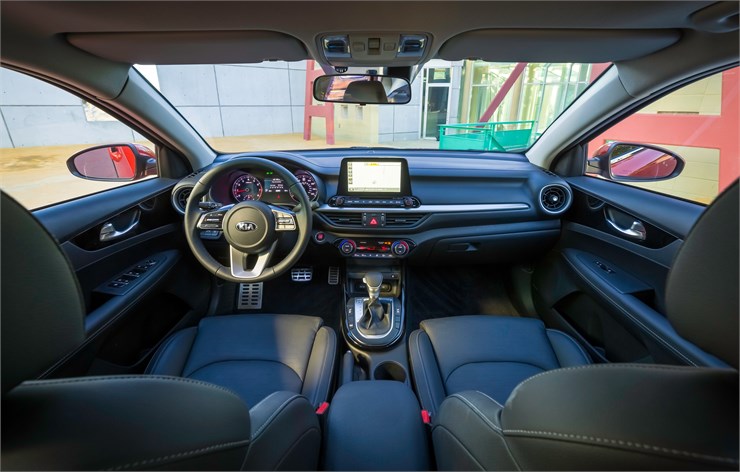 2019 Kia Forte's Mechanical
The Forte's impressive new build starts at the chassis. 54% high-strength steel is used to provide rigidity. This construction method can improve handling and give you more confidence while you drive. To enhance it further, KIA changed the welding process to assemble the various metal components. In total, stiffness has been improved by about 16% compared to previous models. Motor-driven power steering is also included to ensure that you can get through tight corners and curves without any problems.
2019 Kia Forte's Powertrain
The 2019 KIA Forte uses a 2.0-liter Atkinson engine. It's a four-cylinder that can deliver up to 143 horsepower. This power also provides up to 132 pound-foot of torque. As for transmission systems, there are a couple of options to choose from. A six-speed manual transmission comes standard on the new Forte. However, you can upgrade to an automatic Intelligent Variable Transmission system, also known as an ITV. This is a new system for the manufacturer that can help improve fuel economy. The 2019 Forte is expected to have a slightly improved EPA rating than the previous iteration.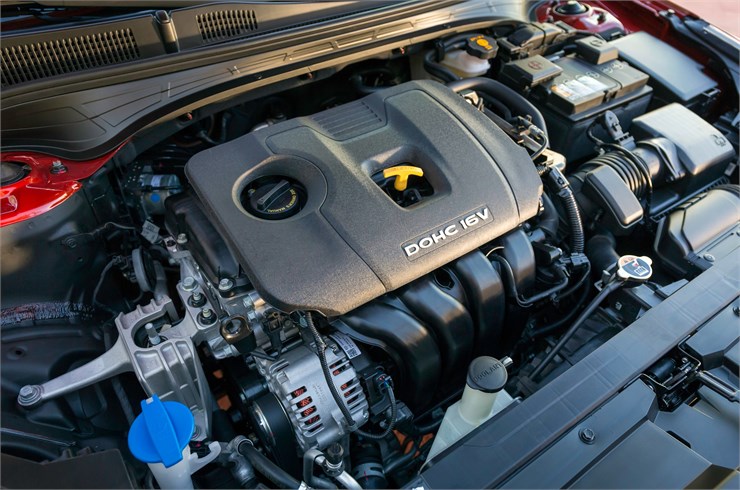 2019 Kia Forte's Safety
Numerous safety features come standard on the new Forte. Two advanced airbags are included to keep you and your front passenger safe during the worst-case scenario. These smart systems are accompanied by full-length curtain airbags on both sides. There's also a four-wheel anti-lock braking system and electronic stability control to help keep the car firmly on the road in inclement driving conditions. Beyond the airbags, the Forte is available with many advanced tech features that are designed to prevent collisions before they happen. They work behind the scenes to monitor your surroundings. Some of these available features include Blind Spot Collision Warning, Forward Collision Warning, Lane Departure Warning, and much more. These systems will alert you when potential collisions are imminent so that you can take action and avoid it. Some features may also do the work for you if you don't react fast enough. Lane-Keeping Assist and Forward Collision Avoidance will make adjustments automatically. Also available is Smart Cruise Control for comfortable driving on the highway, Rear Cross-Traffic Alerts to help you back out of parking spaces, and Drive Mode Select that lets you modify the car's handling based on road conditions.
Closing Statement
The 2019 KIA Forte is a versatile sedan that packs in many great features. The manufacturer has put careful thought into every detail to provide drivers with a vehicle that's as smart as it is powerful. The robust construction methods and many active safety features will ensure that you can dominate any road you encounter. With its redesigned interior and exterior stylings, you can stay comfortable and turn heads along the way. Contact Glassman KIA today to learn more about the new Forte. Our team is dedicated to serving Detroit Auburn Hills Dearborn Michigan drivers. We'll help you find the perfect 2019 Kia Forte Metro Detroit MI build for your unique driving needs.
*Article for general informational purposes. For complete details, please contact the dealership.