New Kia 2019 Kia Rio near Detroit MI for Sale in Southfield near Detroit Michigan
2019 Kia Rio near Detroit MI
Vehicle Overview
Buying the 2019 Kia Rio near Detroit is a great idea, as Kia went all out on their latest Rio model. Coming in both a stunning hatchback and comfortable sedan, you can choose the model and trim according to your budget, driving style, and personal tastes. It is an affordable ride that has a plethora of award-winning safety features and has a spacious and decked-out interior you will feel comfortable in as the years pass. With a great fuel economy as well, you will be sure to get the most out of your purchase. If you want to buy a 2019 Kia Rio today, then head over to Glassman KIA, your favorite Michigan KIA dealership serving Detroit, Dearborn, Auburn Hills.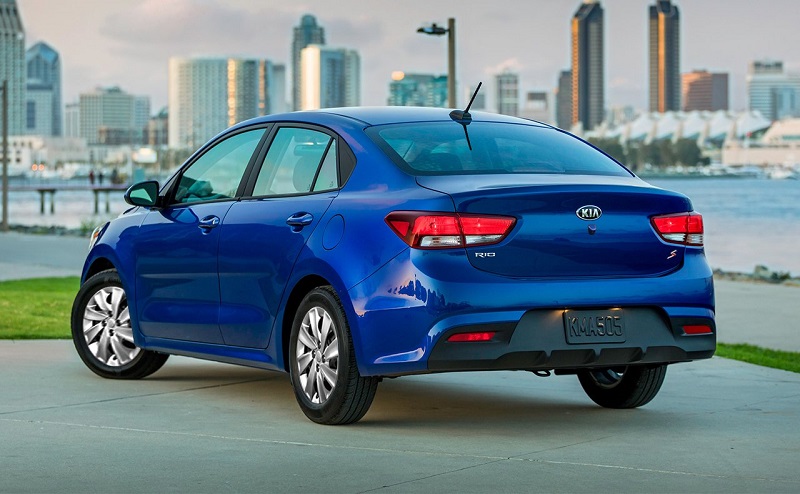 Exterior – 2019 Kia Rio
You can opt for a 2019 Rio in either a sedan or hatchback. Both models are beautiful to look at and give you everything you would expect from cars in their class, and more. Both have a wide front grille and headlights that are positioned in a sweeping arch. If you want a sportier car, then you should opt for the hatchback, as it has a longer roof. The sedan is more standard fare, but in a good way. It comes standard with beautiful 15-inch allow wheels. You can upgrade to 17 inches if you want more flair.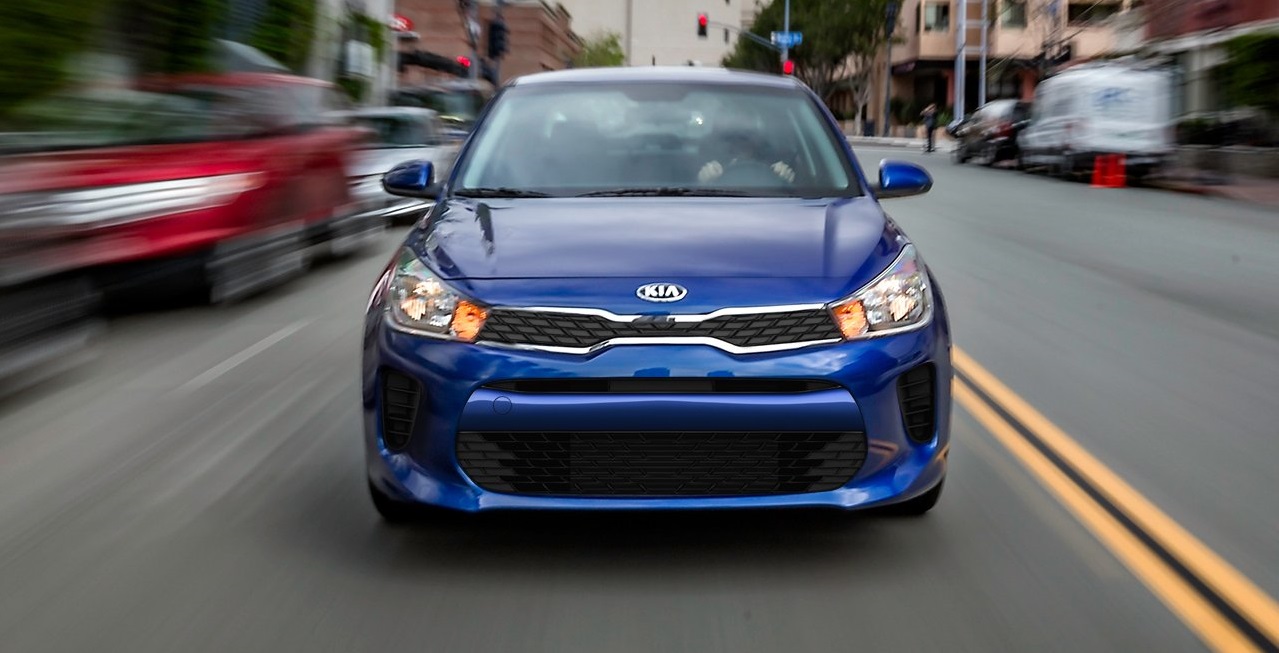 Interior – 2019 Kia Rio near Detroit
The first thing you will notice when stepping inside this new 2019 Rio is the dashboard that closely resembles the offerings on the Audi lineup, which is much appreciated in both style and functionality. The upholstery comes in either black or gray and makes is quite comfortable and functional. They are coated with hard fabric which can fight off stains and other wear and tear common to many vehicles during their lifespan. The rear seating provides great room for a car this small and can sit three in the backseat. There are plenty of storage slots for all of your electronic devices, as well as a USB storage port to keep your phone fully charged. The storage capacity on this car is 17.4 cubic feet with the seats up. It expands to 33 cubic feet if you fold down the rear seats. Everything inside the car feels polished and new, from the doors and windows, to the seats and consoles. There is a 7-inch infotainment screen mounted to the front console and a possible Apple CarPlay or Android Auto if you choose to upgrade. In all the interior is well designed and provides everything you need, and more. For additional information about the interior packages and offerings, contact Glassman KIA, serving Detroit, Dearborn, Auburn Hills.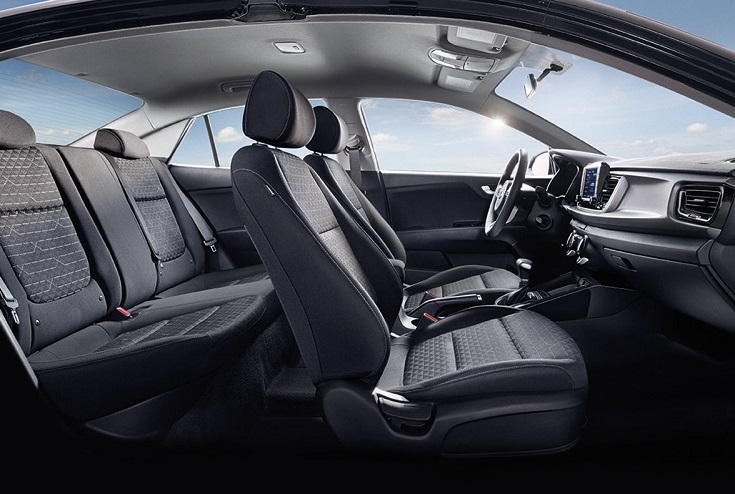 Mechanical – Kia Rio specs near Detroit MI
The car weighs around 2,700 pounds, which gives the powertrain explained below more than enough power to move it around with agility and flexibility. The 6-speed automatic transmission shifts quickly and works well to keep the engine from pushing out too many RPMs. This car drives best, and feels best, when taking it out on city streets. The well-balanced mechanical features of this 2019 model from Kia provide a relatively good fuel economy of 32 miles per gallon. The steering is also a great point of note on this vehicle, as it feels properly weighted throughout and makes both the sedan and hatchback varieties feel quite athletic and agile. If you opt for the Technology Package, that offers more safety features outline below, you will also enjoy the automatic braking which makes driving a breeze.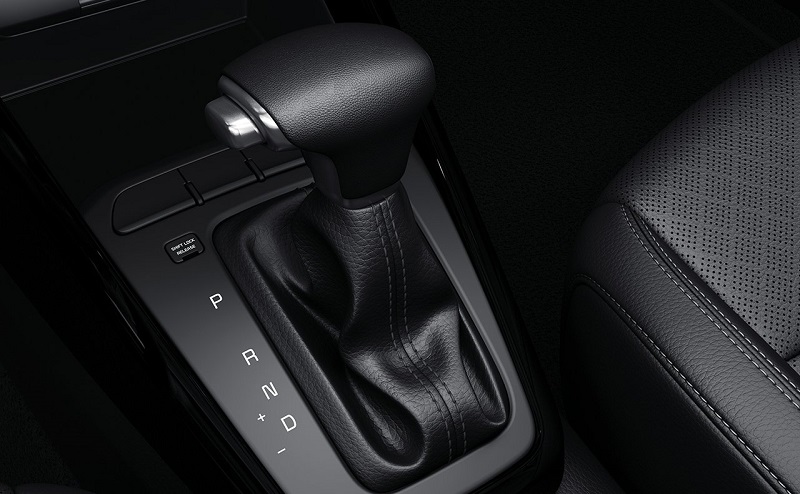 Powertrain – Kia Rio specs near Detroit Area
There is only one powertrain available for both the hatchback and sedan, across all available trims. This is the 1.6 liter inline – 4 that offers 130 horsepower and 119 point-feet of torque. The engine comes paired to the 6-speed automatic transmission. While this is enough for most buyers, those seeking the 6-speed manual transmission that was offered on the 2018 Rio should be aware that it is not offered this year. The manual option doesn't befit this car or powertrain anyway, so leave your worries at the door.
Safety – 2019 Kia Rio dealer
The 2019 Kia Rio is atop the list for both sedans and hatchbacks in its safety ratings. Whatever trim you decide to buy, you'll be sure that this is one of the safest possible vehicles on the market. Each trim level comes standard with the common safety features of airbags and antilock brakes. However, the high safety rating is owed to the available Technology Package, which will run you an extra $800 on Rio S trims. This package includes the heightened safety features you and your family deserve, including: automatic LED headlights and automatic braking.
Buy a 2019 Kia Rio Near Detroit at Glassman KIA
If you are in the market for a new sedan or hatchback, then consider buying the 2019 Kia Rio near Detroit. This is a wonderful vehicle that is affordable, safe, beautiful inside and out, and has enough features to make you feel comfortable and secure in your purchase for years to come. There is enough power for pushing the car when necessary and enough well-designed mechanics under the hood to make the drive feel smooth and agile all the way through. If you have any additional questions about features, trims, models, and pricing, then don't hesitate to call your friendly staff at Glassman Kia today. This Michigan KIA dealership is proud to be serving Detroit, Dearborn, Auburn Hills and even prouder to have some of the best customer service around.