New Kia 2019 Kia Sorento Metro Detroit MI for Sale in Southfield near Detroit Michigan
2019 Kia Sorento Metro Detroit MI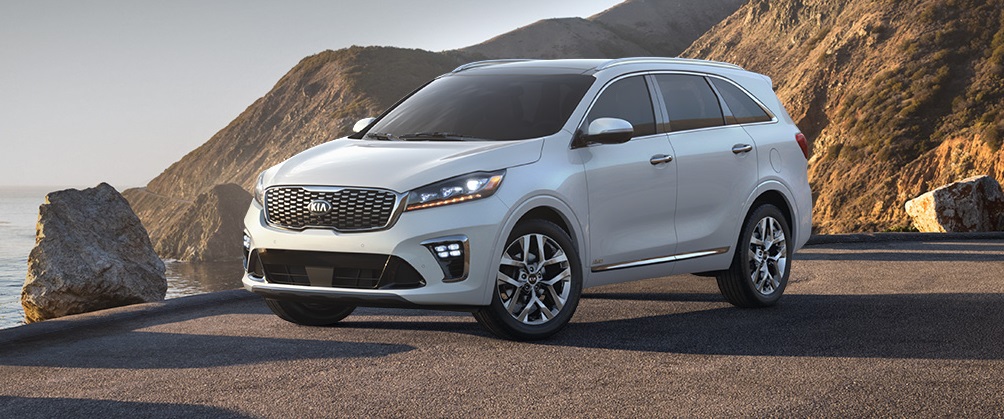 View Inventory
See The 2019 KIA Sorento Soon at Glassman KIA
Mark your calendar now to block out time to preview the exciting new 2019 Sorento at Glassman KIA in person. Your local dealership serving Detroit Auburn Hills Dearborn Michigan and surrounding areas invites you to drive the latest model of this popular brand! Today many drivers in the Greater Detroit Area search for affordably priced stylish midsized sports utility crossovers. With the capability to accommodate up to seven people in comfort, this fashionable vehicle offers five appealing trim models (L, LX, SX, EX, and SXL). It commands impressive miles-per-gallon on the open highway for its class. The estimated mpg varies by trim model and terrain, but ranges between 19 mpg along city roadways up to 26 mpg at freeway speeds.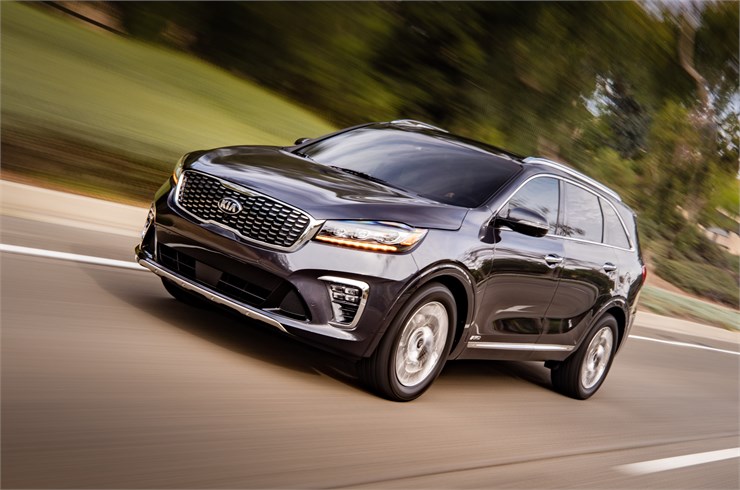 A Distinctive Exterior Style
Drivers interested in obtaining an attractive yet highly practical crossover appreciate KIA's design skills. Do you admire sleekly contoured vehicles? The manufacturer redesigned the fascia of the new 2019 Sorento to modify and upgrade both the front and rear profile. Now optional full LED head lamps enhance visibility and style choices. With varied glossy exterior color selections based upon the trim package, you'll enjoy wide latitude in choosing white, silver, black, brown, graphite, or red shades in most Sorento models. Don't spend time conducting Internet searches for "2019 KIA Sorento Metro Detroit MI" without giving yourself the treat of comparing the appearance of these colors on an actual dealership showroom floor. You may just fall in love with the sports utility vehicle of your dreams when you inspect these enticing, trend-setting new models!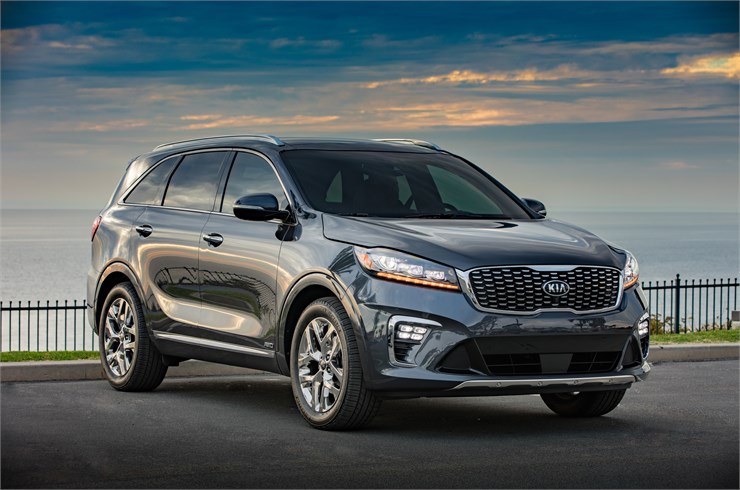 Suave Interior Comfort
If you've already searched online for "2019 KIA Sorento Metro Detroit MI" you'll want to seize this great opportunity! Compare different trim interiors at your local dealership serving Detroit Auburn Hills Dearborn Michigan and outlying locations. Climb into the cabin and savor its well-designed layout. The 2019 models furnish three rows of seats as a standard feature. Every trim offers cargo storage capabilities, too, with space available for placing gear behind each seat row. When you direct your attention to the display console, you'll notice its efficiency and convenience. All 2019 models of the Sorento offer the power of a trip computer, so the driver can monitor remaining fuel levels from the instrument display panel accurately and determine available mileage with precision. This beloved brand also features a number of sought-after information technology advantages: a standard 7″ touchscreen central display panel, convenient 12V power outlets for recharging mobile technology, a USB port and auxiliary jack, Bluetooth capabilities, and access to Apple CarPlay and Android Auto. If you've hunted for an SUV crossover capable of supporting your communications needs on the road, you'll want to consider the new 2019 KIA Sorento.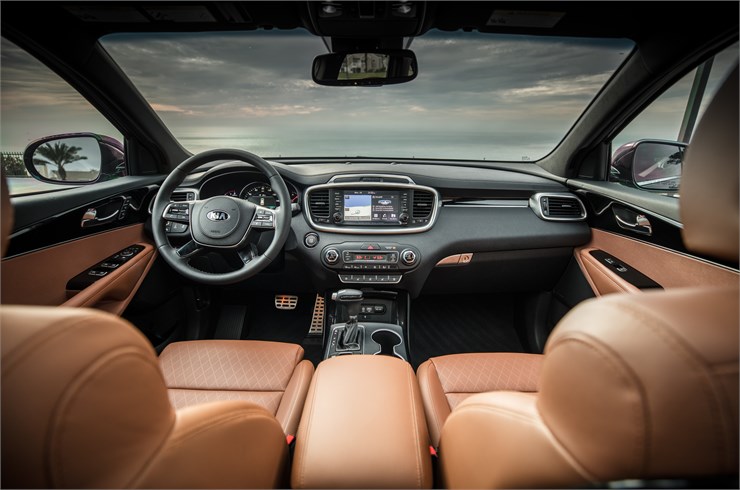 Mechanical Reliability
Regardless of your final trim selection, you'll obtain solid value supplied by superbly crafted KIA engineering. The Sorento utilizes complex state-of-the-art technology. Test drive one of the 2019 crossovers available at your local dealership to fully appreciate the mechanical performance of the ignition, the electronic stability control system, the brakes, the lights, the suspension, and other essential automotive components. We'll help you research the mechanical features of most interest to you. No substitute really exists for slipping behind the wheel, starting the engine, and assessing the way a new sports utility vehicle responds to driver commands.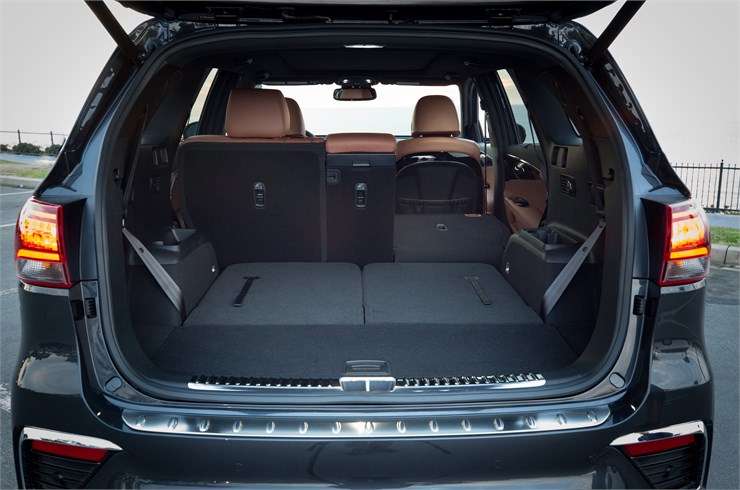 Powertrain Versatility
The latest Sorento trims supply customers with more choices in terms of adjusting the powertrain to meet individual needs. Michigan supplies abundant opportunities for vigorous outdoor recreation, including boating and camping. The 2019 KIA Sorento fits drivers in this region so well because it supplies a standard four cylinder DOHC 2.4L engine with the capability to reach 185 horsepower. Additionally, you have the opportunity to select enhancements to obtain a six cylinder DOHC 3.3L engine achieving up to 290 horsepower. If you plan on using your new SUV for extensive towing, you may prefer to add these upgraded powertrain capabilities. Ask us to assist you in choosing the best engine performance options and trim packages to meet your requirements for your sports utility vehicle.
Important Safety Technologies on Board
KIA placed a high priority upon safety features while designing the 2019 models. The solid metal framework of the vehicle and standard advanced, seat-mounted, and side curtain airbag system seek to protect the occupants during collisions. In addition to an excellent disc braking system and a built-in traction control system, every Sorento supplies a modern LATCH system for securing child safety seats. The manufacturer offers customers the option of choosing sophisticated driver alert systems in many of the 2019 trim packages. When you schedule a test drive of the latest Sorento, ask us to discuss some of these exciting technology options. While no automated system substitutes for responsible, alert driving, KIA has engineered some impressive driver assistance measures into its vehicles.
Reserve Your Test Drive Today!
We welcome the chance to help you locate your next vehicle! Contact Glassman KIA to begin the process of test driving the magnificent 2019 Sorento. Once you slip behind the wheel, you'll know with certainty whether or not you'd like to include this sleek, stylish midsized SUV in your daily life. Call us now!
*This article relays general informational content only; for full details about this exciting brand, contact your local dealership.