New Kia 2021 Kia Sorento in Southfield MI for Sale near Detroit l Southfield MI
2021 Kia Sorento in Southfield MI
View Inventory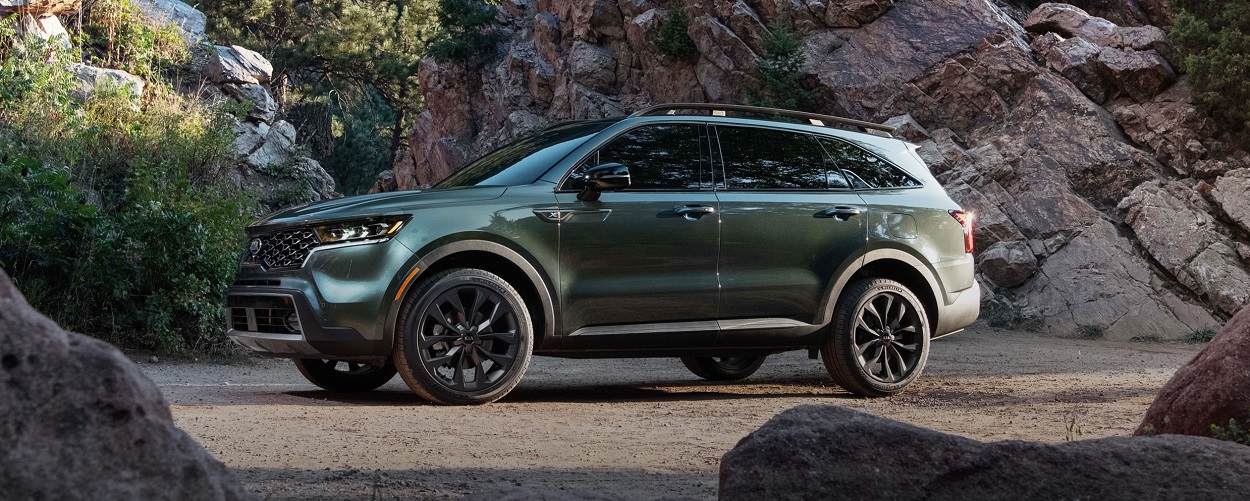 Vehicle Overview
The standard 7-passenger seating of the 2021 Kia Sorento is one of its chief strengths. It offers a treasure trove of space for families who need both cargo and passenger volume, but it does so in a very "easy to drive" SUV package. The slim, contoured front end of the 2021 Kia Sorento in Southfield skips over the often comically overdone décor of modern SUVs and applies a simple but elegant new chainlink/interlinked grille design. It's simply stunning to see it in action here near Auburn Hills Novi Clinton Township.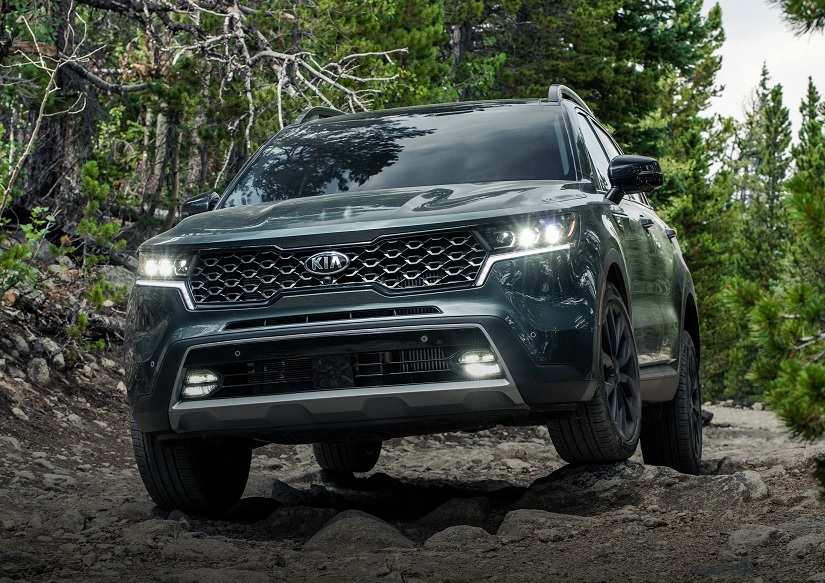 Exterior – 2021 Kia Sorento
The powerful, earthy exterior paints available for the Sorento are a testament to its muscular build. You know colors like Aruba Green, Crystal Beige, and Glacial White Pearl simply wouldn't fly on any other SUV body. Glassman Kia has every color of Sorento available here near Auburn Hills Novi Clinton Township, and we hope that you'll take a look at the paint options up close when you test drive. You'll also notice a new dark and handsome grille design that blends into the headlamps with an LED surround strip just underneath. Foglamps and a prominent front fascia also bring a touch of boldness to the symmetry.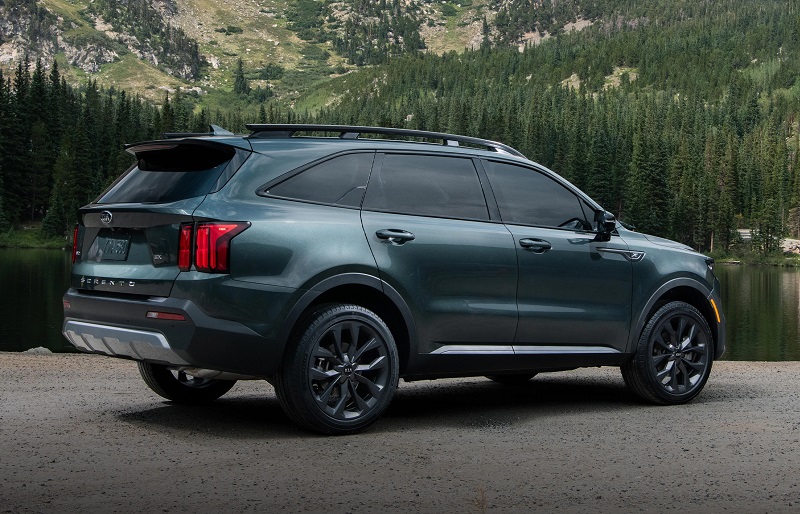 Interior – 2021 Kia Sorento in Southfield MI
The interior of the 2021 Kia Sorento in Southfield is a royal example of why it remains one of the most popular SUVs in the world today. It offers standard third-row seating with a 50/50 split and tons of cargo capacity when you don't need that third row. Its second-row captain's chairs allows the little kings and queens of that row to feel like they're part of something special. They're easily convertible to cargo capacity, though, by simply folding them over. The décor gets in-depth on the 2021 Kia Sorento in Southfield thanks to genuine leather seat trim that features 3d-embossing. It pops out at you like the custom work of luxury it really is. Widely known as one of the most durable interiors, the Sorento will be with your family for years, serving Detroit Southfield Dearborn families with a durable luxury that never gets old.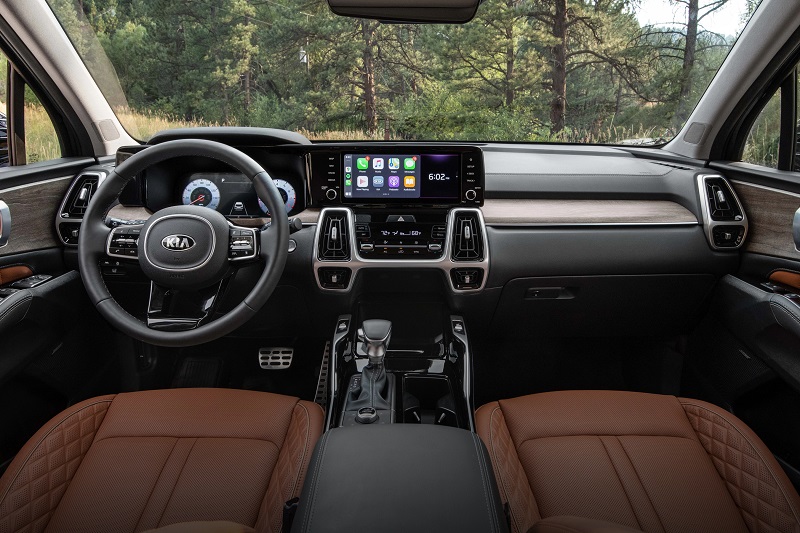 Mechanical – Sorento specs in Southfield
The standard transmission on the Sorento is an 8-speed automatic transmission, but there's also an 8-speed dual-clutch transmission that comes on the turbocharged 2.5L powertrain. This one is really something to get your hands on! You're going to feel the smooth and noticeable difference; however, the 8-speed by itself is simply a superb choice, too, and gives the Sorento one of the smoothest drive qualities in the entire automotive world. The Sorento is available with adaptive all-wheel drive with lock mode that allows your wheels to practically monitor the road for you and control themselves. You'll always get the right amount of traction and force at the right time. Torque vectoring control is also available on some trims. It's perfect for increasing the control you have while you're pulling off a tight corner maneuver on the road.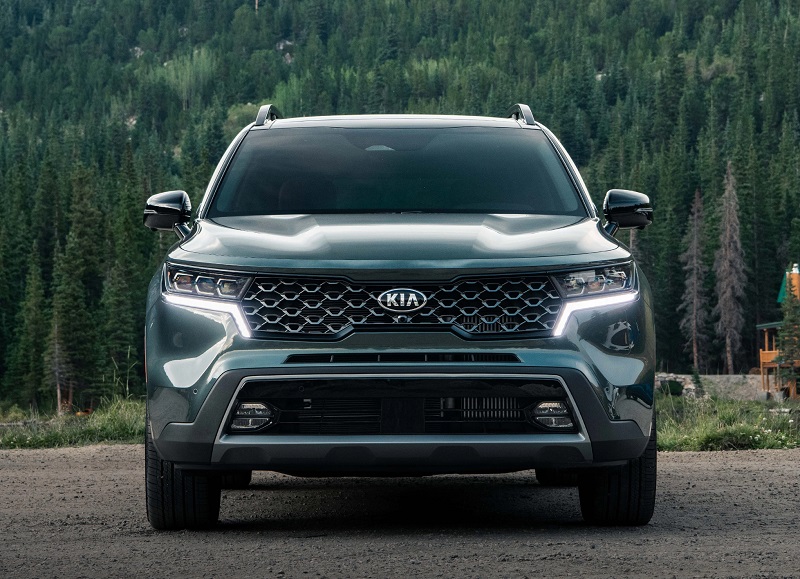 Powertrain – Kia Sorento specs in Southfield MI
Three powertrain options on the new Sorento bring a fresh outlook to its popularity in 2021 near Auburn Hills Novi Clinton Township. The standard 2.5L GDI engine comes with 191 horsepower. Want that same engine but turbocharged? You'll get a whopping 281 horsepower and 311 lb-ft of torque. And the 1.6L turbocharged hybrid with electric motor gets 258 lb-ft of torque and a range of 620 miles. It's an award-winning range of choices that is certain to please everyone who shops at Glassman Kia. The powertrain comes equipped with today's little convenience features, such as Smart Cruise Control with Stop & go. Part power, part convenience, and part safety, this feature lets you enjoy a daily commute without having to constantly brake. Your Navigation-based system will monitor speed limits, curves, and other road conditions to make sure you stay a safe, set distance behind the vehicle in front of you.
Safety – 2021 Kia Sorento dealer
Drive Wise is Kia's in-house driver-assist platform and it serves up a mighty range of features that monitor your blind spots, alert you to obstacles in your lane changes, and even brake for you when the system senses an impending collision. Blind spot monitoring has never quite been as good as it is on the Sorento. Kia's sensors are everything on this SUV, and they never miss a dangerous situation or fail to see you through it. Your family deserves to feel safe as they travel the world. Make sure you can give them that peace of mind by giving them the power of a Sorento.
We're thrilled to continue serving Detroit Southfield Dearborn customers this year and hope you'll take time out of your busy day to get a quote on the new 2021 Sorento. You can also apply for financing on your favorite trim or call us to schedule a test drive. It's all up to you. We look forward to hearing from our loyal customers!
The high-strung 2021 Kia Sorento is a machine that likes to get things done. Just like you and your family, it wants to get the most out of its time. The thick side panels and creative lines that are the Sorento's hallmark always define its mission for the year. And this year, the mission is to be an athletic family SUV that takes you to another level in life. It's perfect for sunny day trips to the beach, rugged camping trips, and visits to beloved friends and family. Our review of 2021 Kia Sorento trim levels is part of our push to introduce people to the Sorento in Southfield Michigan. This is an SUV that is the most pleasant of co-workers. It's part of every fun-filled family. 2021 Kia Sorento trim levels have evolved in recent years to add more bang for your buck. At one time, you had to upgrade trim levels to get features like automatic emergency braking or full-figured touchscreen infotainment systems. Kia has done a fantastic job making those features part of a traditional Kia Sorento. Five trim levels are there to choose from when you make the 2021 Kia Sorento your family's faithful servant.
LX
The raw strength of a Sorento starts showing off its stuff on the LX base model. Its 2.5L 4-cylinder engine is 191 horsepower and 182 lb-ft of torque. It offers a smooth, rich drive that your family will prize. The most astonishing thing about the base model is that they're able to equip it with so many advanced features. The 8-inch touchscreen display comes with a rear view monitor so you can keep an eye on the passengers in the backseat. This is a very valuable feature to have for any parent. When the road gets long, you can make sure everyone's happy and behaving themselves. The three-row design is extremely limber on the base. You get 7 passenger seating with One-Touch slide and fold seating. And don't forget that the new Sorento is a handsome family gentleman. Its crisp LED headlamps more muscular build will make the rugged outdoorsmen among you thrilled to go along for the ride.
S
The S is the perfect second model in the trim lineup. Its 18-inch alloy wheels and SynTex seat trim give it a simple elegance that's affordable. You're also free to upgrade to greater luxuries, such as the optional panoramic sunroof. Paint choices on the model include Crystal Beige and Passion Red, two widely loved colors that you'll find on many Sorento models in Southfield Michigan.
EX
The EX bolsters the power of the Sorento with a 2.5L turbocharged 281 horsepower engine. With 311 lb-ft of torque, you're going to really feel the gritty performance underneath your tires. It's combined with an 8-speed dual clutch auto transmission and black finished alloy wheels. Loading the EX is a smart experience, too, thanks to a Smart Power Liftgate. Just get near your Sorento with your key, and it'll immediately sense your presence and welcome you with a hearty opening of the tailgate. Pack your Sorento with groceries or whatever it is you love in life. Elegant features like 2nd row VIP captain's chairs (with 6-passenger seating) and panoramic sunroof are the perfect "toppers" for the Sorento EX.
SX
The feature spread for the 2021 Sorento SX sounds like something that should really cost more. Thankfully, Kia doesn't make you pay for elegance. The SX rides on 20-inch gloss black alloy wheels and sees through LED projector headlamps. Its LED tail lights give the SX a really posh look from the back of the model. New safety features give you a firm grasp of your Sorento. A Blind-Spot view monitor is standard in your digital instrument cluster and keeps you aware of your blind spots at all times. a Surround View Monitor and Parking Distance Warning feature will also keep you out of dangerous situations. and Perhaps the biggest news on this trim is the 10.25-inch touchscreen infotainment system. It's easy to command your connected features when that larger screen is right there for you whenever you need it. The picture is bright, clear, and resourceful. Tune into the apps in your life that really matter.
Others: The SX Prestige is the fully loaded trim and features leather seating, Bose premium audio, and a 12.3-inch digital instrument cluster. When you opt for the SX Prestige, you're working with serious screen space in the front seat of the model. The Bose premium audio is optional on other trims, but you'll get it standard in the fully-loaded Prestige. The decadent Sorento SX Prestige is for a higher class of buyer, the type of person who wants to command attention by leading their best life always.
Our review of 2021 Kia Sorento trim levels was designed to take you further into the depth of the model. The Sorento has always been a magnificent family SUV, but this time it's bringing in its A-game for performance and class. Leather seating is abundant in the large trim lineup. Choose from one of 5 Sorento trims today at our dealership. Call to learn more.