New Kia Detroit Area 2021 Kia Sorento for Sale near Detroit l Southfield MI
Detroit Area 2021 Kia Sorento
View Inventory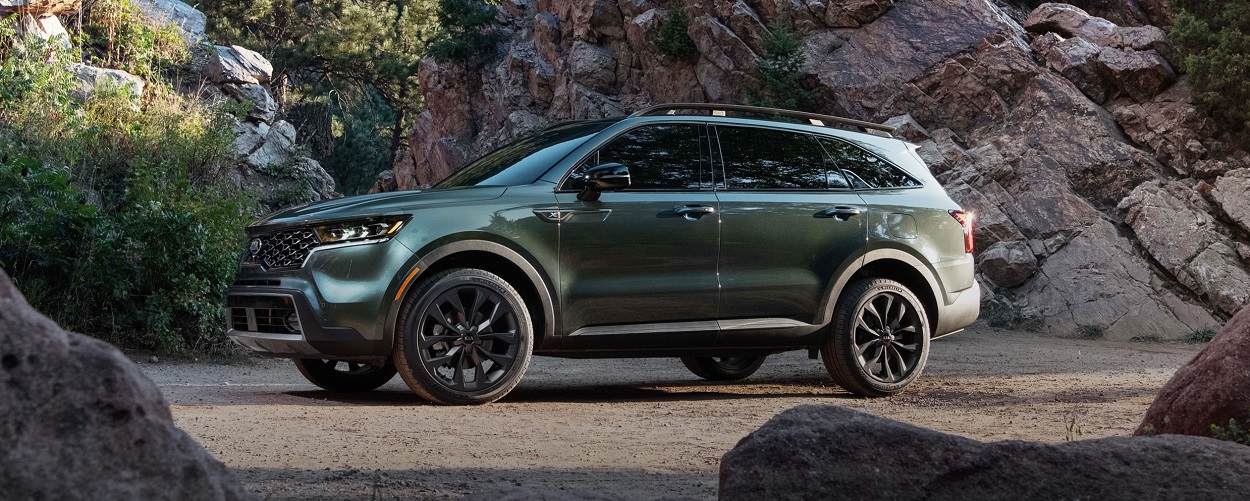 The mid-size 2021 Kia Sorento is a level-headed but ambitious offering from Glassman Kia. We move a lot of these through the years, and we've seen a lot of different designs over those years, but the 2021 Kia Sorento near Detroit is really something special. The model is decorated very tastefully on the outside and features all the things that families love and need on the inside. Glassman Kia is reviewing the 2021 Kia Sorento near Detroit because this is one of our most popular SUVs. It's serving Detroit Southfield Dearborn Novi with a whole new way to enjoy life.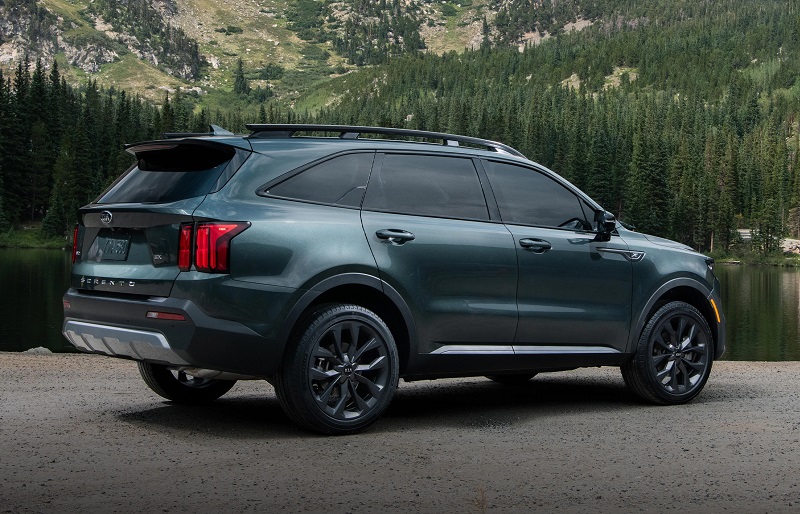 Exterior – Kia Dealer serving Detroit MI
Kia's Sorento is cast as the perfect rugged but practical family SUV. You can see it in two lights: either as a very muscled SUV or as a very practical SUV. It's a little of both. This year's new Crystal Beige colors has really captivated buyers with its rich, deep and distinct look on the body of the Sorento. The wheel arches even get a splash of color in the right light. Deep, blacked out windows and body-color door handles are another signature of the Sorento. You'll enjoy the all-out LED headlamps, too. They're shaped to be thicker than other SUV headlamps. While other SUVs are going away from this look, Kia's blend into the modern grille really stands out from the pack. The 18-inch alloy wheels of the S have gloss black pockets for another hallmark look of the Sorento.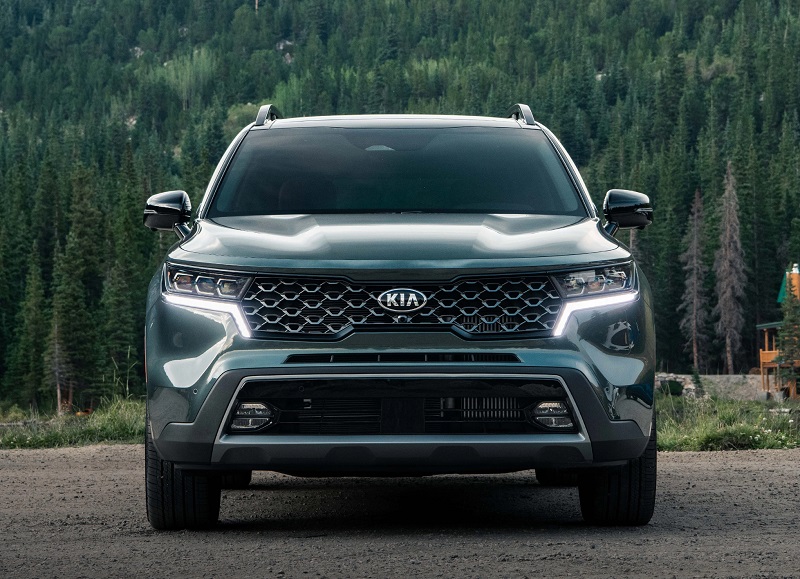 The Sorento S is a very good preview of what every Sorento has to offer families. It has SynTex seat trim with toasty front heated seats. The third row is a 50/50 split configuration for your convenience. When you need quick cargo space for an unexpected haul, you're going to love this third row! High trims get 3D-embossed leather seat trim. It's very soft and fluffy. Two new technology surprises are on the Sorento. Choose from an 8-inch touchscreen or a 10.25-inch touchscreen. How much different does that larger touchscreen real estate make? We believe it's so much of an upgrade that many of you out there will consider this 10.25-inch version a "must have." There's also premium speakers available. The Bose Centerpoint premium audio system gives you 12 speakers of musical fun to look forward to.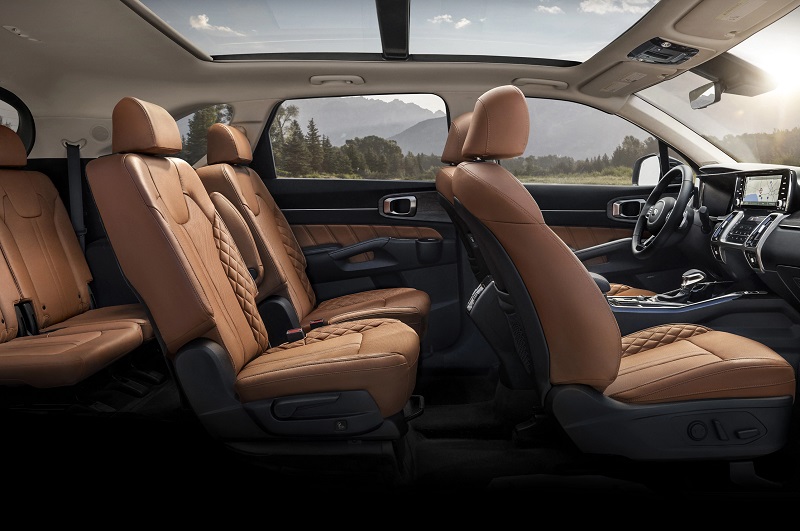 Kia Sorento Mechanical specs
The 8-speed automatic transmission and all-wheel drive traction is amazing this year. You'll notice that you never have to struggle to drive your Sorento. It's a smooth customer with a sharp sense of purpose on the road. Smoothness is part of what makes the Sorento such a popular SUV. Even though it's a mid-size model, it feels like driving a sturdy small SUV. It's also amazing on fuel economy compared to other models in its class. And this year, the hybrid model promises to give the Sorento another level of usefulness to families.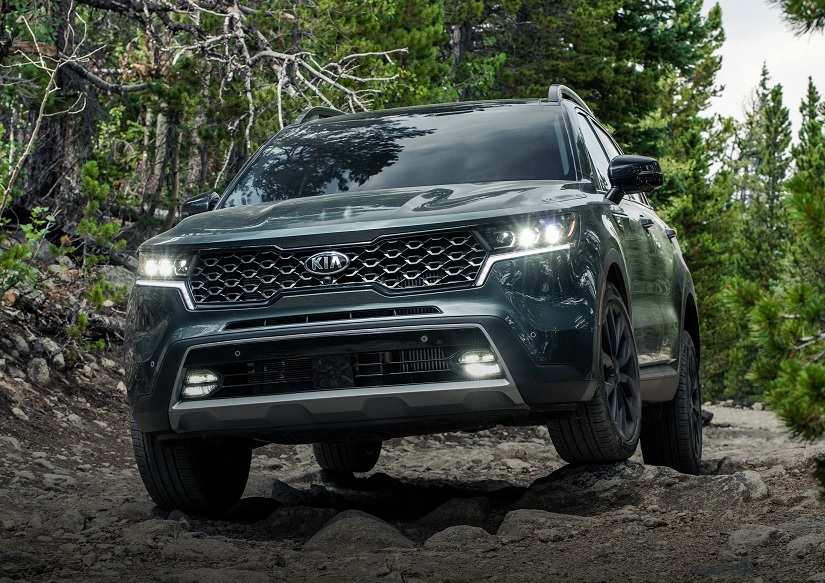 Powertrain – Kia Dealership near Detroit MI
There are three powertrains available on the Sorento: 2.5L turbocharged engine (281 horsepower), 2.5L engine (191 horsepower), Turbo Hybrid (227 horsepower and 258 lb-ft of torque). The hybrid model is making the crowd go wild this year! You'll find its 37 MPG combined is enough to power your family to their grandest adventures without making you sell the house to afford it. Happily, other powertrains, even the gas powered ones, are at the top of their class on efficiency. The Sorento is perfect for the family that prizes efficiency.
Safety – 2021 Kia Sorento dealer
The intelligence of Kia's driver-assist platforms have grown legendary over the years. Automatic emergency braking is standard on every Sorento this year. The importance of this shouldn't be underestimated. When your Sorento senses a front collision, it can brake for you. There are even some features this year where the Sorento is intelligent enough to adjust steering. Kia's Blind Spot Assistance is a life-saving feature. It gives you a view of your preferred blind spot at all times, right in your digital instrument panel. This is a camera view located right behind your wheel that will give you a life-saving view of those blind spots at all times. Safe Exit Assist is standard on almost every trim. Drive Wise gives you this one so that you can safely exit your vehicle without having to worry about other vehicles potentially harming a member of your family. You'll get loud alerts to let you know to stay in the vehicle until the coast is clear.
Glassman is serving Detroit Southfield Dearborn Novi with specials on the 2021 Kia Sorento near Detroit all year. Contact us online or by phone to discuss your plans with the Sorento.