New Kia 2019 Kia Sorento Lease and Specials in Southfield Michigan for Sale in Southfield near Detroit Michigan
2019 Kia Sorento Lease and Specials in Southfield Michigan
---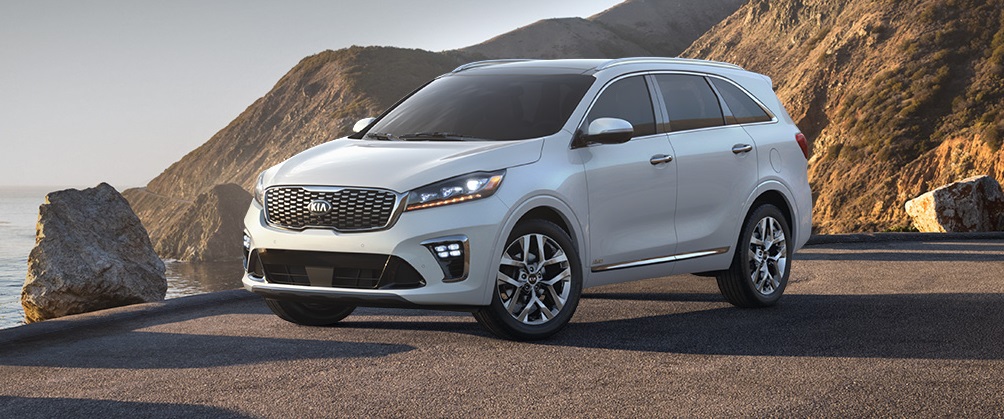 Kia Sorento Lease Specials and Finance Offers in Southfield Michigan near Southfield Auburn Hills Dearborn
Why Lease or buy 2019 Kia Sorento Lease in Southfield MI
The 2019 Kia Sorento is back and better than ever thanks to being redesigned in certain areas. Mid-size SUVs have grown very popular over the course of a decade, and many people favor these vehicles more so than large SUVs. The 2019 Kia Sorento in Southfield is also serving Detroit Dearborn Auburn Hills and many other locations. This particular SUV has it all from excellent styling to engaging performance attributes. Let's see what features Kia has improved on verses previous models. The new Sorento has a tighter, more sharper exterior thanks to its bold features. One of the biggest differences here is that there are brand-new headlamp configurations. For some of the higher end trim levels, Kia will offer full-LED lighting with these particular trims. The SUV's front fascia is completely reworked with an aggressive front bumper, as well as a more detailed front grille. This is definitely the vehicle for capturing the attention from a vanity standpoint. Sleeker taillights and a sportier muffler system has also been updated.
*Not actual vehicle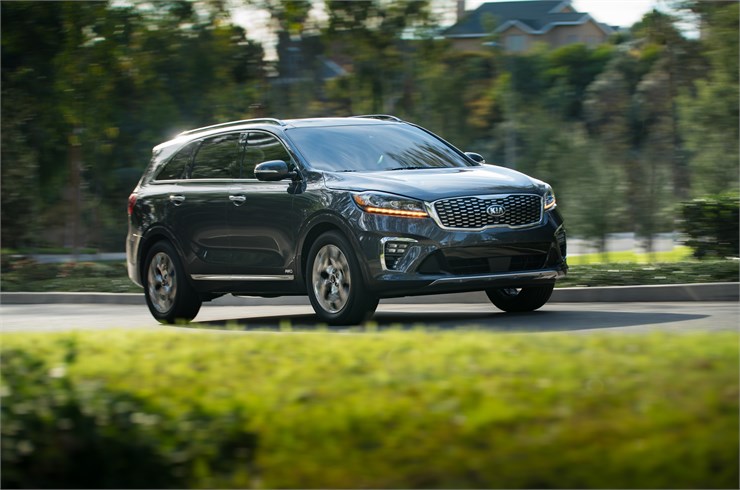 Exterior – Kia Sorento
In Southfield Michigan, Kia Sorento lease offers are available for the general public. This mid-size SUV comes with a completely new facelift. The sleek appearance of this vehicle is eye-catching thanks to its long flowing lines and sweeping curves. To give the Sorento more masculine appeal, Kia has crafted a wider body stance. The lower fog lights look phenomenal as they sport four separated halogen bulbs, which provides top-tier illumination in a number of weather conditions. Consumers can also choose from a myriad of exterior colors such as ebony black, sparkling silver, sangria, blazing blue, red passion, platinum graphite and many more.
*Not actual vehicle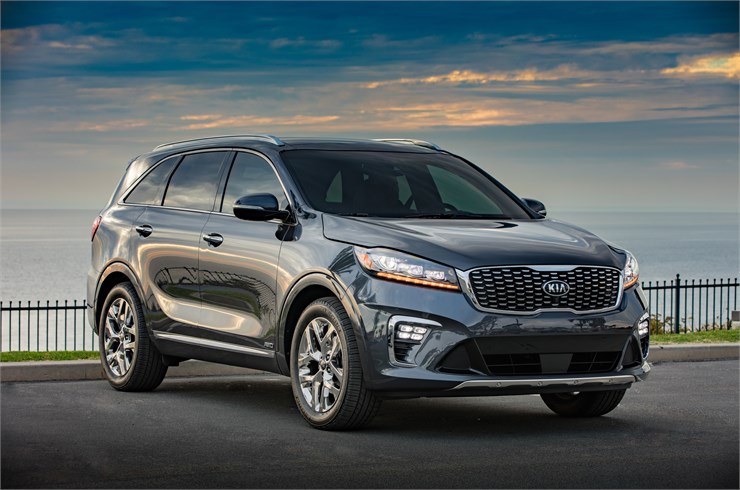 Interior – 2019 Kia Sorento Lease
An SUV wouldn't be an SUV if it didn't possess a stunning interior. Kia has went for a more spacious and comfortable cabin that can seat up to seven individuals. The second-row seating offers 40/20/40 folding options while the third row offers 50/50 split-folding capability. The thing that stands out here is that this SUV allows you to customize for better cargo space. Nappa leather upholstery also completes this premium look to the highest degree. The 2019 Sorento in Southfield Michigan comes with two new seat colors, including Mahogany and Terracotta. The accent trim of this upholstery has also been updated for a more modern look and feel. The stainless steel door sills are illuminated, and the front seats are heated and vented for pure comfort. What more could an SUV enthusiast ever ask for. In addition to those benefits, there's a leather-wrapped steering wheel as well as a leather-wrapped gear knob.
*Not actual vehicle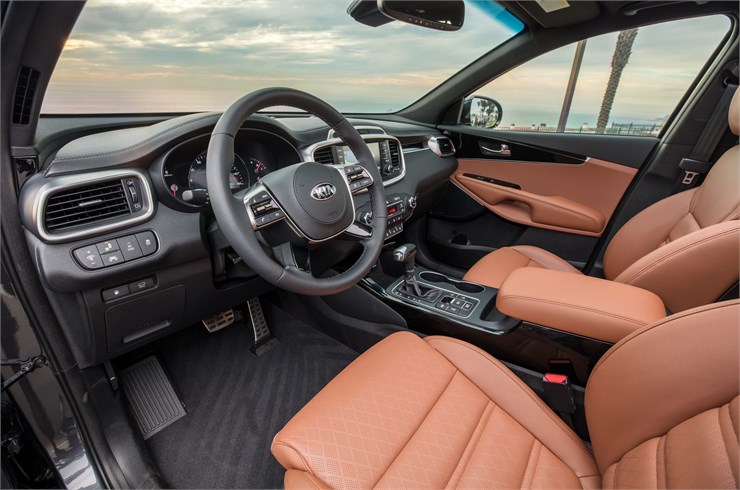 Mechanical – 2019 Kia Sorento Lease
The 2019 Kia Sorento will make you feel right at home by providing a superb driving experience. Kia's all-wheel drive system is vert dynamic as it will consistently monitor the road conditions. Thanks to this advanced system, the vehicle will offer the right amount traction when needed. Its Torque Vectoring Cornering technology keeps the vehicle under control with plenty of traction while cornering. Thanks to the immense amount of power, consumers will love the 5,000-pound tow limit. The Sorento will offer plenty of power and better performance while on the roadways. These engines are very dynamic in their actions, especially when being paired with an eight-speed automatic transmission. Depending on the trim of choice, drivers will receive between 185 – 290 horsepower. Engine types come in a 3.3-liter DOHC V6 and a 2.4-liter DOHC engine. Overall torque will range between 178 – 252 pound-feet.
*Not actual vehicle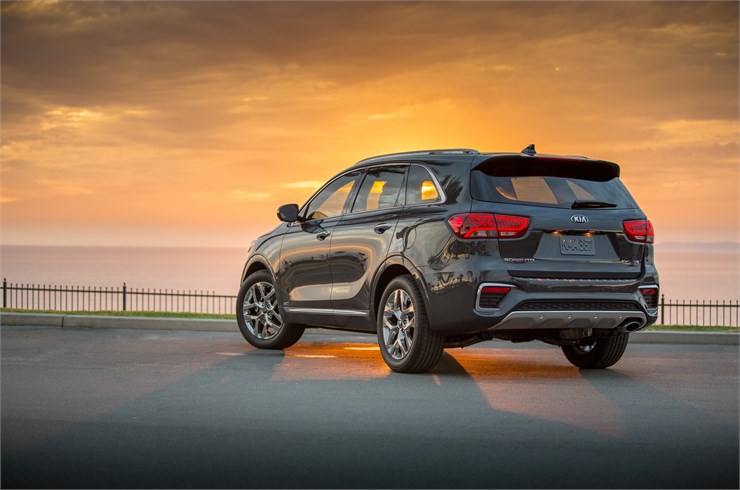 Request 2019 Kia Sorento Lease Specials in Southfield Michigan
Serving Detroit Dearborn Auburn Hills, the 2019 Kia Sorento in Southfield will offer an abundance of technological features for entertainment and safety purposes. All of the passengers will enjoy loud, thumping sound of the vehicle's Harman/Kardon audio system thanks to its 11-channel amplifier. Apple CarPlay and Android Auto helps you to connect effortlessly, and there's a wireless-charging tray that's designed to charge your smartphones. Depending on the choice of trim, there's seven or eight-inch touchscreen display. For additional connections to external devices, Kia has incorporated his vehicle with multiple USB ports.
On the safety side of things, the new Sorento comes equipped with dual-front airbags as well as front-seat mounted airbags. Kia has retained its use of driver-assisted safety technologies. This includes brake assist, electronic stability control and vehicle-stability management. For dispersing impact if you're in an accident, the Sorento will effectively utilize front and rear crumple zones. This SUV is well-equipped with other security features, including child safety door locks, side-impact door beams and tire pressure monitoring.
If you're seriously interested in owning an SUV that hosts a wide array of safety and comfort features, then this is the vehicle for you. When it comes to appearance, the 2019 Sorento can compete with some of the higher-end brands that are on the market today.