New Kia 2019 KIA Soul Lease and Specials in Southfield Michigan for Sale in Southfield near Detroit Michigan
2019 KIA Soul Lease and Specials in Southfield Michigan
---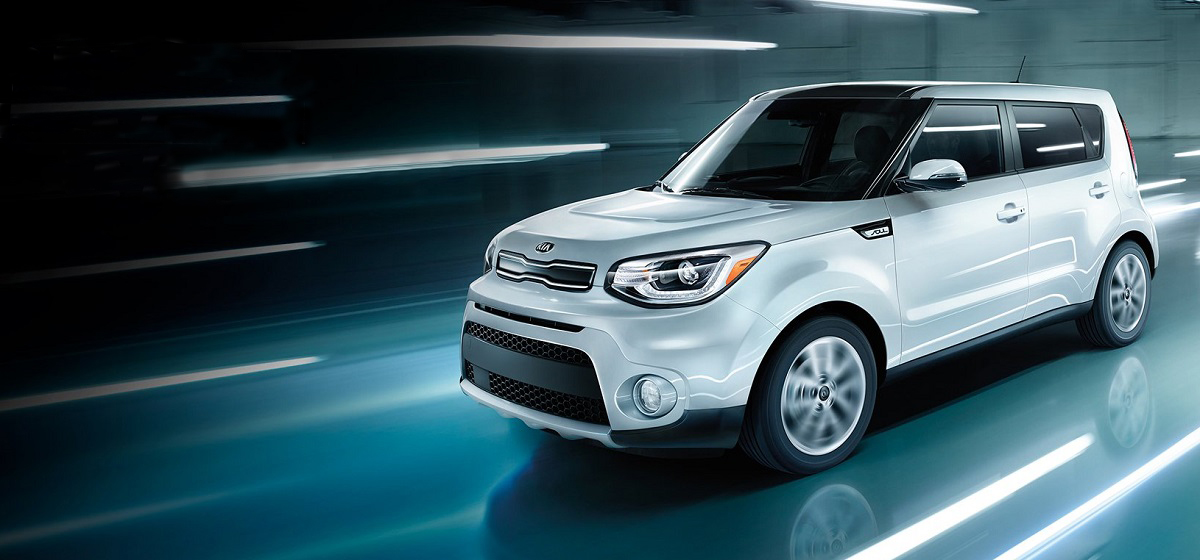 *Not actual vehicle
KIA Soul Lease Specials and Finance Offers in Southfield Michigan near Southfield Auburn Hills Dearborn
Why Lease or buy 2019 KIA Soul in Southfield MI
Around 9 years ago, Kia entered the American SUV and CUV market in a very smart, strategic way. They filled the gap between the tank-sized SUVs and the slightly smaller tank-sized CUVs. They offered their contribution with a mini version of these behemoths. In 2010, they began selling a front-wheel-drive, five-door crossover of the other crossovers already on the market. Since then, their popularity has skyrocketed to the point that Kia is hustling to keep up with demand. If you live in or near Detroit Dearborn Auburn Hills, come by and take a look at our Kia Soul special offers we have lined up for the 2019 KIA Soul. For those of you who live in Southfield Michigan, visit our dealership to see the 2019 KIA Soul where you are right there in Southfield Michigan. We will be happy to help you pick out your version of this crossover of crossovers. Also ask about our KIA Soul special offers. We have listed just a few of the key features below for you to consider.
*Not actual vehicle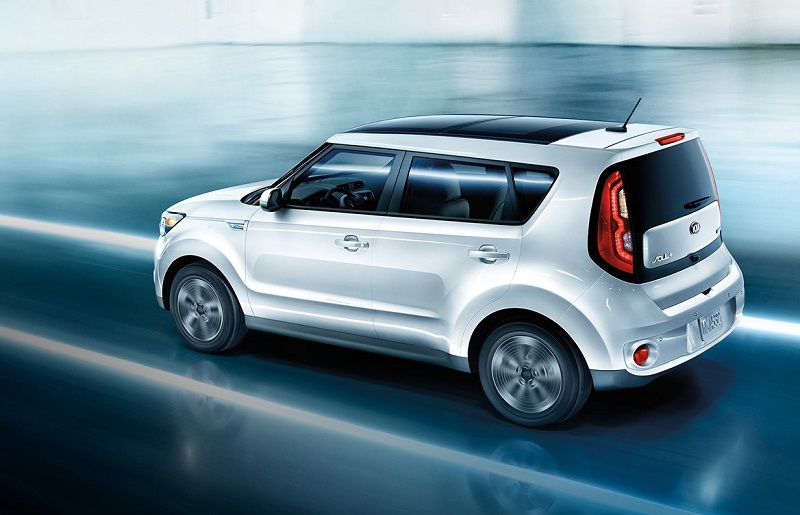 Exterior – KIA Soul
The Soul retains its overall exterior profile for 2019 with no major, appearance-altering changes. That by now recognizable mini-SUV look comes in all three trim packages. You can read more about trim packages later in this article. Dual, color-matched, power side mirrors are standard on each of the trim levels. Automatic headlight control comes with all three models. Automatic headlight control means you can set it to come on when the sensors in the system detect reduced sunlight. All three Souls have privacy glass. Privacy glass is heavily tinted glass for the rear window and cargo areas. It serves a dual purpose. The reduced amount light reduces heat in the rear quarters and offers privacy as well. The Standard, Plus and Exclaim all have solar glass. Solar glass has a special coating that covers the windshield and front door windows. This coating diffuses Ultraviolet rays entering the cabin. This UV reduction means a cooler ride and less sun damage to the interior.
*Not actual vehicle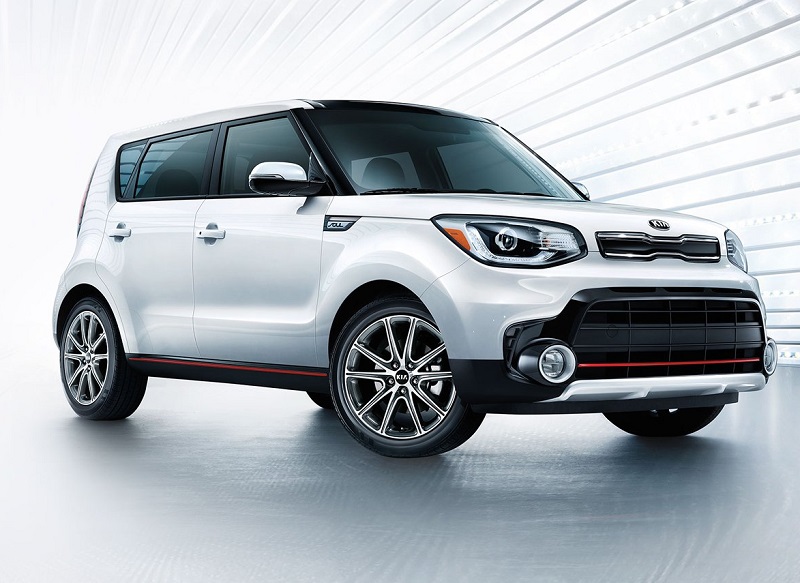 Interior – 2019 KIA Soul
The three trim levels have rear camera vision, and they all three come equipped with a Sirius XM Audio System. All three have six speakers with front tweeters mounted in the air vent system. Another fun-to-use feature of the three models is what KIA calls Siri Eyes Free. It is a voice recognition system installed in the steering wheel. Ask us about UVO connectivity technology. The Soul also includes a USB jack in each of the three models. With the use of an access cable, you can plug in your favorite mobile tool and listen to whatever it is you have on your portable device. Radio controls are installed right on the crossbar of the steering wheel. If you drive a KIA Soul, you won't end up in a ditch or worse trying to find your favorite station. Soul's Trip Computer readily makes available essential information for monitoring travel progress. It tells you how far you have gone. The Trip Computer shows how many more miles you have at the current fuel level. It also displays miles per gallon performance.
*Not actual vehicle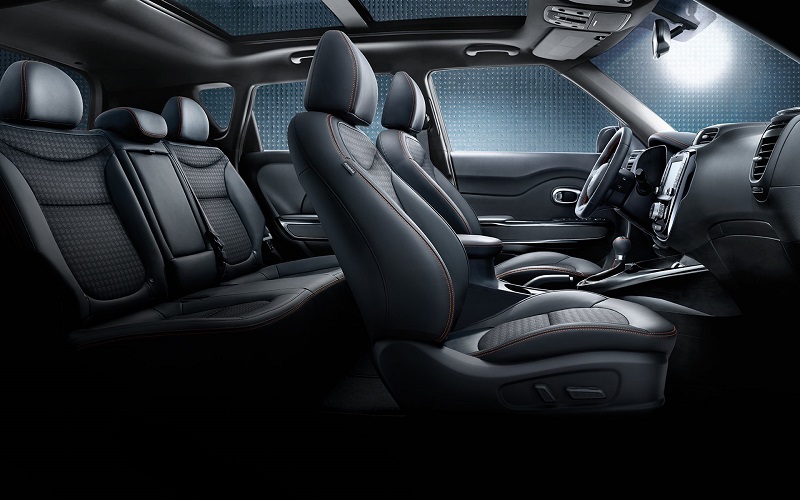 Mechanical – 2019 KIA Soul
Horsepower is tempting and more than sufficient. The Base model has 130 horsepower revving to 6300 rpm. The Plus is at 161 horses and 6200 rpm, and the Exclaim has over 200 horsepower at 6,000 rpm. That much horsepower, in a vehicle that size, can get you into trouble with local traffic enforcement before you know it. Race cars they are not, but racetracks don't have speed limits either. The Base model has a six-speed manual or automatic transmission, the Plus sports a six-speed automatic, and the Exclaim features a seven-speed Dual Clutch, Sportmatic transmission which is also available on the Plus. As expected, gas mileage is great. The Base mpg is 27 combined with the manual and 28 with the automatic. The Plus is at 27, and the Exclaim gets 28 mpg. All three have 14.2 gallon fuel tanks. Combined, these mpg rates and tank capacities give you 378 miles per tank. That's just 22 miles below 400 miles per fill-up.
*Not actual vehicle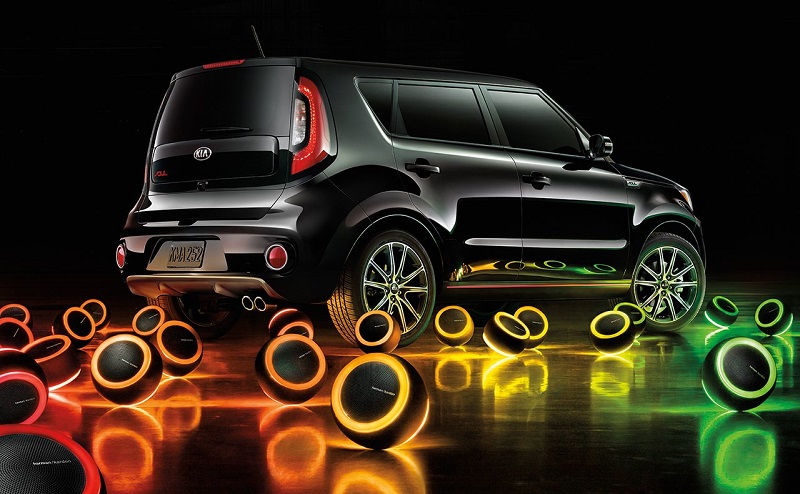 Request 2019 KIA Soul Specials in Southfield Michigan
The 2019 Soul was designed with the latest technological advancements in mind. Their HMI (Human Machine Interface) approach is at the core of their innovative efforts. As mentioned above, their UVO can keep you informed about vehicle performance, and entertained while you drive. BlueTooth enables the driver to make hands free calls while keeping both hands on the wheel for safety. Just match your phone to the on-board technology. UVO also features Apple Carplay, Android and navigation. It includes maintenance reminders and diagnostics warnings, and of course, vehicle security.
For safety, KIA virtually surrounds front and second seat areas with airbags. Dual, front bags, seat and side bags are positioned to protect from every possible impact direction. An advanced sensor system accurately and precisely manages activation. This system can actually measure impact and deploy bags inflated to match that measured impact. It also monitors and alerts seat belt use or not.
If you have been thinking about owning or leasing a 2019 Kia Soul in Southfield, or the Dearborn Auburn Hills, 2019 is an excellent time to make that idea a reality. Great looks, performance and gas mileage in a SUV that you can actually drive and park easily are all offered in this year's Soul. See us about KIA Special Offers. If you are near Detroit Dearborn Auburn Hills, call the dealership or go to our website and make an appointment to see us today. Also visit us to get a firsthand look at your 2019 KIA Soul in Southfield. We will be happy to help you into your 2019 KIA Soul.